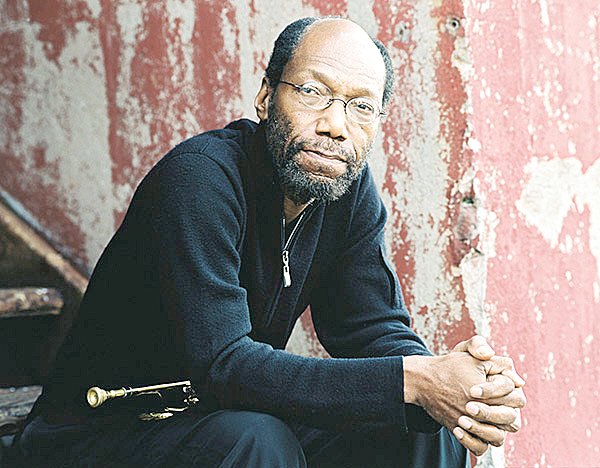 Take the Coltrane | city ​​pulse
By LAWRENCE COSENTINO
A mighty roar is coming to MSU College of Music's annual Martin Luther King Jr. commemoration this year, thanks to an American jazz legend.
Make that two jazz legends.
Charles Tolliver, the trumpeter and bugle composer who crossed the jazz scene in the 1960s, will conduct MSU's jazz octet on Sunday in his own arrangement of John Coltrane's landmark album, "Africa Brass," as the centerpiece of a multifaceted celebration. of King and his legacy.
By crude medical standards, Coltrane is no longer with us, but he will be here too.
The chance to hear "Africa Brass" live is rarer than a total eclipse. The 1961 album was unique even in Coltrane's breathtaking series of quantum leaps – a stampede of trumpeting elephants, hammering out the cosmic unity of humanity and music and the deep African roots of both.
"This work probably would have been a recorded memory, if Reggie Workman hadn't asked me in 1998 to see if I could transcribe it," Tolliver said in a phone interview. (Workman was Coltrane's bassist in 1961 and plays on the original "Africa Brass" album.)
A formidable phalanx of horns, trumpets and trombones unfurl a bird-of-paradise extension of Coltrane's classic quartet, rumbling like a volcano and glowing with harmonic and textural sophistication.
"The story goes that the original arrangements, by alto saxophonist Eric Dolphy and pianist McCoy Tyner, were lost in a fire at Dolphy's mother's house during the Watts Riots," Tolliver said. "Nothing had been done with her from 1961 to 1998."
Tolliver's arrangement premiered at Lincoln Center's outdoor Damrosch Park and a handful of universities, then sat on the shelf until 2011, the 50th anniversary of "Africa Brass", when Tolliver the presented at the Frankfurt Jazz Festival, with nothing less than a powerful soloist. tenor saxophonist Archie Shepp.
"I mean, it's all really about the tenor solo," Tolliver said, relishing the understatement.
Most of the original arrangements of "Africa Brass" are credited to Dolphy, who also performs on the album. But in Tolliver's view, the booming, happy chords favored by Coltrane pianist McCoy Tyner are the big bangs that fuel the big band.
"Eric was looking over McCoy's shoulders and using those great overtone vocals that McCoy had," Tolliver said. "It's very uplifting. Seeing him play, viscerally, is really great.
Tolliver worked on the arrangements for three solid months.
"I've been true to the original music on the record, note for note," he said. "I didn't want to cheat with this great idea. The instrumentation is exactly as on the disc.
Workman suggested that Tolliver add a backing vocal. It took another four months.
"The choir makes it a spectacular event," Tolliver said.
Tolliver premiered the enhanced choral version of "Africa Brass" on December 4 at the University of California, Santa Cruz, as the culmination of a three-month residency there.
Unfortunately, the current COVID surge makes it impossible to include a choir on Sundays at the Fairchild Theater.
"Hopefully when things calm down and this plague is a thing of the past, maybe we can do it with a choir, like Reggie Workman originally envisioned," Tolliver said.
Tolliver had no qualms about recreating a jazz masterpiece, nor does he doubt that MSU's musicians will live up to the legacy on Sunday.
"When it was created, I was happy with it," he said. "It sounded like the record. As long as there are good artists, it will be fine. Rodney Whitaker has a wonderful program there.
Tolliver, who turns 80 in March, will have priceless stories to share with MSU jazz students. Born in Jacksonville, Florida, Tolliver received his first instrument, a cornet, from his grandmother. He went to pharmacy school at Howard University, but the bugle call of the trumpet lured him to New York. Biographies usually say his first gig was with avant-garde alto saxophonist Jackie McLean (dig their CD Blue Note "Action"), but that's not entirely true.
"My first gig with professionals was with Ike and Tina Turner, with backing vocals, dancing, the whole revue," he recalls. "Students today are not educated in these kinds of groups."
When Tolliver hit the scene in New York in the mid-1960s, jazz was exploding with the pioneering concepts of Coltrane, Albert Ayler, Ornette Coleman and other sonic alchemists who dissolved formal and emotional boundaries in music and opened portals to interstellar space.
Tolliver likes to remind his students that these gods of music were just people.
"Coltrane was still playing when us kids were coming in," Tolliver said. "You could go see him, see the quartet. He was approachable. After leaving the stage, he was either in the dressing room, still playing, or quietly reading a book and smoking his favorite brown cigarillos. I had the opportunity to say hello to him.
Tolliver absorbed and distilled the innovations of the early 1960s into his own muscular sound, open to wild side trips but still grounded in the greats that came before him. In epic tracks like "On the Nile" (a worthy companion to "Africa Brass"), his trumpet blasts with rapid fanfares and urgent calls to arms that shoot like trails over rhythmic mountain ranges.
"It's called the king of instruments, but it's also the most dangerous," Tolliver said. "It's totally ruthless. All errors are fairly obvious.
Tolliver and pianist-composer Stanley Cowell were among the first jazz artists to make their music their own, forming the Strata-East jazz label in 1971.
Today, Strata-East recordings from Tolliver's dynamic combo Music Inc. delight a new generation of listeners on glorious vinyl.
"It was a labor of love," Tolliver said. "We did it, not thinking it would succeed or survive. It was in the moment, and once we did, it took on a life of its own.
Tolliver thinks the big labels should have stuck with vinyl from the start.
"As a youngster, you would go to the music store, scavenge, and you could pull out this 12-by-12 album, look at the beautiful artwork, pull out this vinyl and put it on your turntable," he said. "Then we came to this little, little package of CDs. Beautiful as it was done, it's not the same. There was no doubt that the industry was going to have to go back to vinyl at some point.
Tolliver has played with many jazz icons, from saxophonist supreme Sonny Rollins, drumming legends Max Roach and Art Blakey to brilliant pianists like Herbie Hancock and Andrew Hill. However, there are a few musicians he missed and would have liked to meet.
"I would have loved to have an audience with Fats Navarro," he said.
Navarro, a lightning-fast bebop pioneer, died in 1950, when Tolliver was 9 years old. The spirit immediately conjures up an imaginary, intergenerational trumpet battle, but that's not what Tolliver had in mind.
"No, no," he said. "Just to sit in the corner while he practices, just to listen."
Ssupport City Pulse – Donate today!