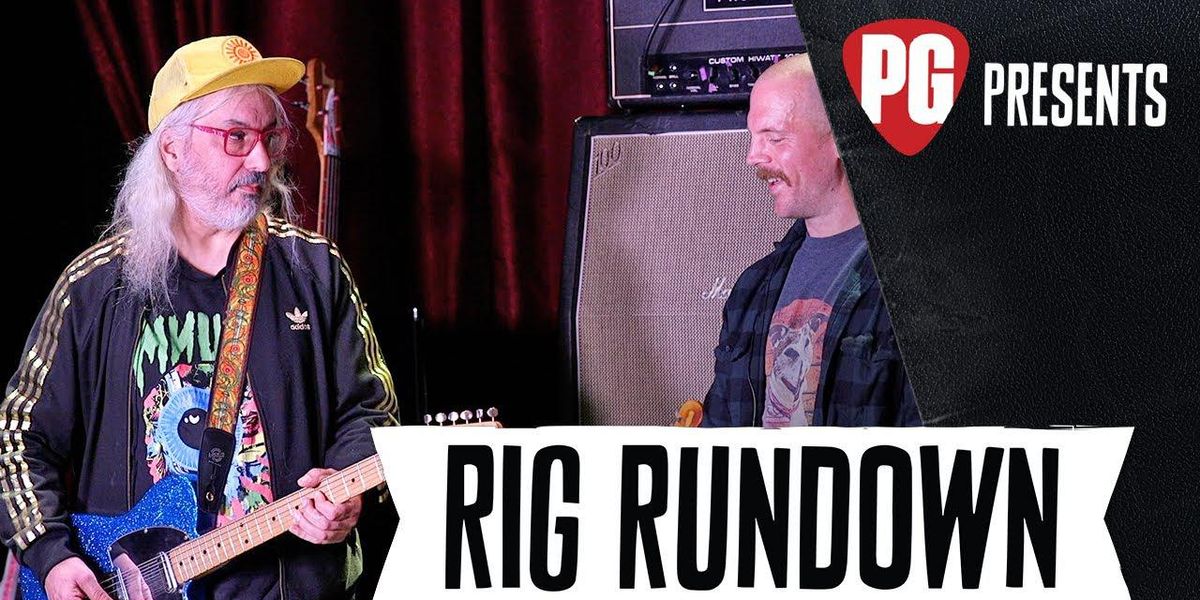 Rig presentation: J Mascis from Dinosaur Jr. [2022]
[ad_1]
J Mascis of Dinosaur Jr. is rock 'n' roll's loudest talker. On stage, the reserved leader is eclipsed by his three full carpets, recalling President Teddy Roosevelt's quote: "Speak quietly and carry a big stick; you will go far.
---
The mainstays of the volume, Emmett Jefferson Murphy III (drums) – better known as "Murph" – and Lou Barlow (bass / vocals) helped J form the band in 1984 after their first band, Deep Wound, disbanded. . Both left Dinosaur Jr., then joined in 2005. This core group has released eight dynamic studio rock albums that oscillate between a runaway locomotive fueled by humming commentary and riffs, and catchy nimble rhythms, melodic and imbued with pop that carries more than it crushes. Without ever reaching the mainstream stratosphere like some of their contemporaries (including Nirvana, which opened for Dino Jr. in 1991), this consummate power trio has remained popular in the American underground as it continues to sell out, plunging into the Display panel 200 (rising even higher on the Independent and Rock charts) and headlining alternative music festivals. Along the way, their soft-spoken shredder has risen as a guitar hero among the musical outcasts.
Ahead of Dinosaur Jr.'s sold-out show at Nashville's Brooklyn Bowl, Mascis reconnected with PGIt's Chris Kies to talk about Teles (yes, you read that right; he's touring with more Telecasters than ever before), including developing his new signature T based on his perfect 58-model in the studio. There are also two premieres for J: a Phantom-Tele-Jazzmaster Frankenstein and a guitar equipped with Floyd Rose.
[Brought to you by D'Addario XPND Pedalboard: https://ddar.io/xpnd.rr]
The ghost of the bowl
J Mascis has been linked to the Jazzmaster for decades. In 2021, he broke his offset mold by releasing a signature Fender Telecaster based on a beloved 1958 Tele that had long been his go-to instrument for tracking solos. But during our November 2021 conversation at the Brooklyn Bowl in Nashville, Mascis mentioned that the '60s Vox Phantom was his favorite figure. He was never able to get along with them on stage, so he tinkered with various parts and made his own dream machine. This guitar features a modern copy of a Phantom body, Fender Deluxe Series Telecaster maple neck and fingerboard (with jumbo frets) and a Mastery JM style bridge.
The project was commissioned and executed by Trevor Healy of Healy Guitars in Easthampton, Massachusetts. Healy says, "My favorite thing about it was cutting around the Mastery deck to fit snugly inside the pickguard. There's also a Seymour Duncan custom shop pickup under the bridge pickup hood, if I'm not mistaken. Regarding the microphones, we can see, Mascis tried out several sets, including Fender Eric Johnson single-coils (middle and neck) matched to a Seymour Duncan Stra-Bro 90 (bridge) – before landing on a trio of Fender Noiseless single-coils. The guitar rolls in open-G tuning and is used on "I Ain't" from their new album. Sweep it in space.
All of J's guitars take Ernie Ball Regular Slinky (.010 – .046) and he shreds with Dunlop Tortex 1.14mm picks.
Full-fledged ghost
Here's a head-to-toe photo of the wonderful mash-up.
Blue already
"I started seeing it in guitar stores, and it's weird because it's like:"why is my guitar hanging on the wall?', jokes Mascis. "It's not a guitar I designed, like with my signature Jazzmasters, so seeing a copy of a guitar I've had for decades is weird." Mascis kind of fell into the Telecaster world thanks to Fort Apache Studios owner Joe Harvard, who sold J the top-loader Tele from 1958 on which his new signing is based.
Mascis played this '58 while producing Buffalo Tom's 1990 album Bird brain at Fort Apache. Mascis let Harvard know that if he ever wanted to part ways with Tele, he would have to call her first. Harvard vowed he would never sever ties with the guitar, but a few months later Mascis received the fateful call. In the Rundown he mentions that since owning the '58 he has appeared on almost every solo he has recorded, as he tends to love what he plays on this Tele more than anything. he owns.
In our November 2021 cover story, J explained what makes the Blue-Sparkle T so special: "On this Tele, I find my solos more interesting. If I play the same solo on a Strat, it sounds like a Strat to me. Is it a little more boring somehow? I don't know where my brain or my fingers are going or why this is happening, but I usually find that if I play solos on different guitars for the same song, what I play on this Tele is always more interesting. The top-loader was the first Tele I really bonded with, and it was all about the feel. When I take Teles with through string bridges the strings are a little harder to bend. People say top-loaders don't have as much sustain, but I never thought of a Tele as a sustain guitar anyway, and when you hit a Big Muff, every guitar has sustain. So this argument doesn't really work for me.
Notable ingredients for the production model include an alder body covered in a bottle rocket blue-flake finish (offset with a mirrored pickguard), a custom J Mascis C-profile maple neck that's paired with a fingerboard maple pocket 21 jumbo frets, and Tele Single-Coil J Mascis Custom '58 pickups. However, in the signature guitar he showed us, he replaced the original Fender pickups with a Seymour Duncan BG1400 Lead Stack Telecaster (bridge) and McNelly A2 or A5 T-style (neck). (The neck and hardware also feature Fender's "road worn" treatment.) So far, he's used it on "Feel the Pain" and "Start Choppin '".
spark spanking
Before getting his Tele signature, this Fender Custom Shop Deluxe Telecaster Thinline was his favorite live T. The Glittering Violet Ax features many of J's must-have features, like jumbo frets on a worn C-profile maple neck and top-loading bridge. (Although Fender shipped the guitar with a through-string setup, forgetting about its request for a top-loading bridge, J quickly swapped one out.) At the time of filming there was a Seymour Duncan BG1400 Lead Stack Telecaster (bridge) and TV Jones Starwood (neck).
JM Thinline for J
To match his Custom Shop Tele Thinline, Mascis requested a semi-hollow Jazzmaster Thinline in the hopes that it would be a lightweight option for extended practice jams, but the finished product came out heavier than J imagined. . The JM Custom Shop style pickups have been spray painted by their technician.
A Jazzmaster from Saint-Vincent?
While recording Sweep it in space, I have experimented with different sounds and tunings. One pair that gave a raucous result was the use of an Ernie Ball Music Man St. Vincent guitar in C # -tuning, which delivered the gnarled "I Met the Stones". The basis for the beefy track is St. Vincent's DiMarzio mini humbuckers in a Fender tweed. I shared this with PG in November 2021: "He [EBMM St. Vincent] seemed to be playing well at that height. A lot of those rhythm parts are on this guitar through a tweed Fender Bandmaster. I think the sound of this song mostly comes from the amp and mini humbuckers on this guitar. So its take on this instrument is a Jazzmaster with the neck pickup disconnected, blowing up the same DiMarzio mini-humbucker on the bridge as the St. Vincent.
Tuxedo TV
"I asked Fender if they had any guitars that would stay tuned in C #, and they sent it to me," Mascis explains. The Fender American Ultra Luxe Telecaster Floyd Rose HH is J's first 6-string with a Floyd Rose trem and, noted in Rundown, he watched "Mountain Man" (from 1985's Dinosaur) on her maiden voyage.
The sleek Telecaster is built with an alder body, Fender augmented D-shaped maple neck, maple fingerboard and 22 jumbo frets, Ultra Double Tap humbuckers (splitable via Fender's S-1 switch) and a Floyd Rose Original Double-Locking 2 -Pont Point Tremolo.
J for Jazzmaster
We'd be delivered if we hadn't presented J's longtime # 1, a 63-sunburst Fender Jazzmaster with its stock neck and pickups. It's replaced the pickup covers and knobs, put jumbo frets, inserted into a Tune-o-matic style bridge, and since our 2017 episode, it's upgraded the original Fender tremolo to Mastery.
Your … deaf
Anyone who has seen Dinosaur Jr. live recognizes these twists and turns. For years, Mascis has been flanked by the same three stacks and the same stage combo. Here we see three-quarters of J's jumbo setup: two full-stack Marshall Super Bass from the late '60s and a vintage Hiwatt DR-103 head driving two Marshall 4x12s.
Big plans
Vintage Hiwatt DR-103
1960s Marshall Superbass
Another Marshall Super Bass from the 1960s
Fender makes four
In the 2012 episode, Mascis used a Victoria 80212 Twin clone in tweed, but in 2017, and again in late 2021, he was using the same vintage Fender Twin Reverb.
More for Mascis
For at least over 10 years, J Mascis used a Custom Audio Electronics switch built by Bob Bradshaw as a mission control. Notable pedals that were seen in the 2012 and 2017 editions include a Tone Bender MkI / Rangemaster-clone combo pedal made by Jim Roth of Built to Spill (lower right corner – in a third new cabinet since the 2012 and 2017 videos, each showing a different box), Mascis's first Electro-Harmonix "Ram's Head" Big Muff (top right), a vintage EHX Electric Mistress, an MC-FX clone of a Univox Super-Fuzz (bottom right) , blue box), a pair of ZVEX pedals: a Double Rock (two Box of Rock pedals in one) and a Lo-Fi Loop Junky (both bottom left), a Tube Works Real Tube Overdrive, a Moog MF Delay and a Boss TU-3S Tuner. New pedals not shown in the last two videos are a Homebrew Electronics Germania 44 treble booster (bottom right), a JAM Pedals RetroVibe MkII, a Xotic SL Drive, a Suhr Jack Rabbit tremolo, a Dr. Scientist Frazz Dazzler fuzz, an EHX Oceans 11 and a Uni-Vibe chorus / vibrato from the Psych '69 series by Jimi Hendrix (Dunlop). Everything gets the juice from an MXR MC403 power system or an MXR M237 DC Brick.
From your Articles site
Related articles on the web

[ad_2]