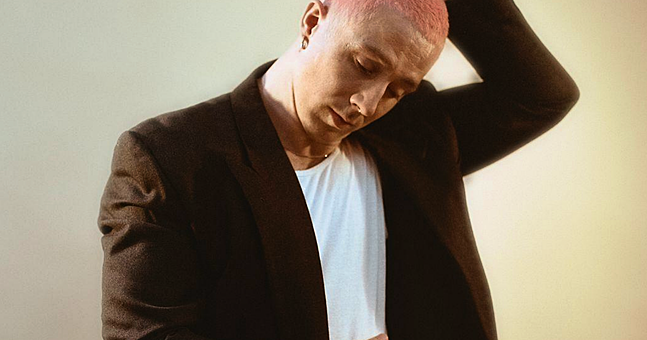 PREMIERE: Alt-pop actor Moncrieff explores the simple moments of love in 'Warm' video
Marking Moncrieff's first release since signing to German label Energie Musik; 'Warm' is taken from the Waterford-based alternative artist's forthcoming EP, due out this spring.
Described as Moncrieff's "first love song", the new single "Warm" is both deeply personal and infectious. The cinematic visuals of the new offering effortlessly reflect these elements in style.
The rising Irish artist, who has just signed with Warner Music Germany and Energie Musik, moved to London to pursue his music career aged just 19. Two years ago he released his EP 'The Early Hurts' and caught the eye of none other than Elton. John, who called out to her on his radio show. The songwriting legend was particularly smitten with Moncrieff's track 'Symptoms', which was picked up by BBC Radio 1 after significant airplay.
Ahead of Elton John's climax, a friend asked Moncrieff to sing backing vocals for Adele, who was filming a BBC performance. Just before Avicii's death, Moncrieff had already booked a flight to Los Angeles, where he was supposed to work with the Swedish superstar producer. Unfortunately, despite the impressive DJ, things took a turn for the worse. Since then, the artist has been working on his songwriting skills for several years.
Now he's set to release a batch of songs that need "no bells and whistles," as he puts it. "Warm" is a condensed, clean and direct pop, delivered in a personal way. It's a simple but heartfelt tune that immediately piques listeners' ears. A track about accepting and dealing with another person's flaws, it's soothing, like a sort of sonic safety net.
Speaking of single Moncrieff (real name Chris Breheny) says, "Nobody's perfect. This song is about being that person and that rare moment in life when you find that person who truly sees you for yourself, your imperfections, flaws and scars and your good traits and loves you for them. It's a really comforting and happy feeling to know that all you have to do is be yourself.
The Waterford native also made sure to explain the harrowing origins of the video to Hot Press:
"We didn't want to create something grand, romantic, and over the top for the video because that's not what describes love to me. I found love in those simple moments when you feel totally untouchable when you're with that person and even something as normal and pure as going for a drive in the summer and singing on the radio together becomes magical."
Check out the brand new video for "Warm" below: