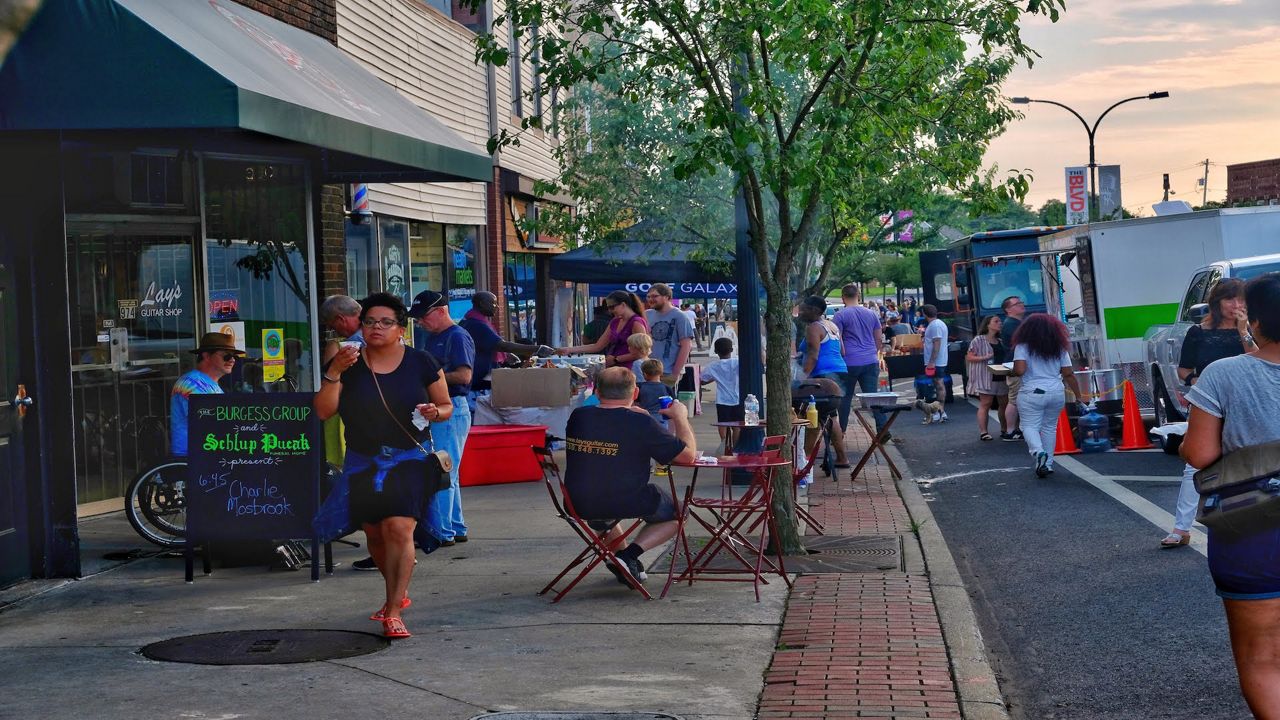 Kenmore Neighborhood Alliance Launches First Friday Events
AKRON, Ohio — The Kenmore Neighborhood Alliance will launch one of its most anticipated economic engines when the First Friday free summer music series returns to Akron's Kenmore neighborhood in June, KNA said in a statement.
Now in her 5e year, First Friday will run from 6 p.m. to 9 p.m. on the first Friday of every month from June 3 through September 2 on historic Kenmore Boulevard, KNA said.
First Friday events feature live music, vendors, family activities and food trucks, with activities taking place across several blocks of the boulevard as well as many local businesses.
Every First Friday will feature a beer garden, where attendees can sample locally made beer from a rotating list of breweries, including HiHo Brewing Company, Lock 15 Brewing Company and Thirsty Dog Brewing Co.
In partnership with Akron Civic Commons and the Rotary Club of Akron, the series' first Friday will feature live music from the Shootouts, a honky-tonk band whose third album, "Stampede," is produced by Ray, 10 time Grammy winner. Benson, said Corey Jenkins, KNA's promoter and chief experience officer.
The summer program includes:
June 3: Shootouts with the Akronauts, plus Oddmall: The Great Gathering of the Grassmans
July 1: Big Pop with the Buffalo Ryders, plus SIT Strings presents Virgil Lay Day and the inaugural Torchbearer Volunteer Community Fair
August 5: Free Black! with Shelby Olive, plus East Ave. Market and Akron Black Artist Guild Present Community Art Project "Summer Impressions"
September 2: Marc Lee Shannon with Indré, plus Crafty Mart
First Fridays grew out of the Akron neighborhood's Better Block event, which was designed to showcase what's great about the Kenmore community.
KNA Executive Director Tina Boyes said Better Block kickstarted the revitalization of the community.
"Since then, we've added over $1.5 million in new investment, a historic district and 12 new businesses along Kenmore Boulevard, many of which support our budding music economy," she said. "And the growth can be attributed, in part, to events like Kenmore First Friday."
With five recording studios specializing in hip-hop singer-songwriters, a historic guitar repair shop, an instrument store and a concert hall with multiple stages, the music industry has roots deep in Kenmore, she said.
This year, First Friday events will offer better-known bands and a second stage, as well as new partnerships to encourage residents to return, she said.
On June 3, the main stage will also feature self-proclaimed "fun band" Akronauts, with Akron Recording Company scheduling additional music.
Kenmore's First Glance youth hip-hop program will also perform, KNA said. First Glance is a Kenmore-based nonprofit that provides local children and young adults with a variety of activities to help them reach their potential, the agency said.
First Friday attendees can also browse Oddmall's 'Great Grassman Gathering', which will feature dozens of vendors selling art, games, toys, comics, collectibles and everything in between. is quirky, geeky and imaginative, KNA said. Oddmall is the first in a series of partners that must appear at every First Friday event.
To learn more about Kenmore First Friday and other events, visit KNA's Facebook page.