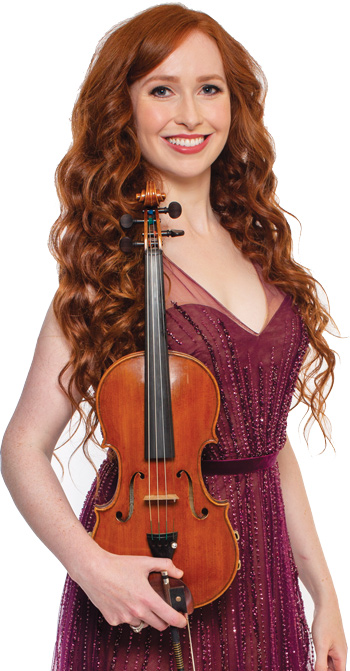 Ireland's past and present come to the Indiana stage when Celtic Woman performs June 3 – Hamilton County Reporter
By STU CLAMPITT
[email protected]
On Friday, June 3, world-renowned, Grammy-nominated Irish band Celtic Woman will perform at the Old National Center in Indianapolis. Ahead of this leg of their North American tour, The Reporter had the opportunity to speak with Tara McNeill about touring and recording Postcards from Irelandtheir first studio album in three years.
"I've been with Celtic Woman for six years now and this is my fifth spring tour," McNeill told The Reporter. "I've been traveling about five months a year in the United States for years now. I've been to every state except Hawaii, so go for it!
McNeill became a member in August 2016. She is the second violinist to join the No. 1 World Music Artists and she is also the first multi-instrumentalist as she brings her harp and voice to the group.
"I had it in my head for years that this would be the ultimate dream job," McNeill said. "The opportunity arose to play harp in the band one year for the Destiny TV special. That was my little in. The next year the violin position came up and that's where my heart and soul are in. I auditioned with a number of other fellow violinists, and got the job, so here we are.
The composition of the group has changed often and this year marks its 16e anniversary.
"We're incredibly grateful the band has been around for so long," McNeill told The Reporter. "There have been 16 women in Celtic Woman over those 16 years. Especially after two long years away from our Celtic Woman family, we are grateful to celebrate our 16th birthday. When Celtic Woman started in 2005, it was supposed to be a one night show. Then people loved the music and connected to Irish songs and stories and here we are all these years later. We hope Celtic Woman will go another 16.
McNeill started playing the violin when she was seven or eight years old and said she felt like she started out a bit older than other world-class musicians.
"I had started the piano before that and I started the harp before that," McNeill said. "I grew up in a very musical family. Even though I wasn't actively playing, I was surrounded by music from the start.
Like other violinists The Reporter spoke to this year, McNeill sees the violin as more than just an instrument.
"It's my third arm," McNeill said. "He's definitely a member I can't live without. The instrument itself becomes a way to communicate whenever you can't find the words. I love it. It's another language and something so personal, but something you feel you need to share with the world as well. I feel incredibly lucky to have the opportunity to have music in my life growing up and now I feel so very grateful to be able to share Irish music and fiddle music with the world.
McNeill said she loves Celtic Woman's music and can't wait to share old favorites and new ones with Indianapolis fans this week.
"We have a collection of music that fans love – favorites like 'Danny Boy', 'Amazing Grace' and 'You Raise Me Up', but we also have lots of new music from the album we recorded. during called lock Postcards from Ireland", said McNeill. "I really appreciate being with my friends again, with these incredible musicians and singers. We have had two long years away from our Celtic Woman family and we are making the most of every night that we are. on stage. We are incredibly grateful to be back doing what we love.
Postcards from Ireland was recorded during the later stages of the pandemic when restrictions in Ireland finally allowed it.
"We had a wonderful time recording the album and the special in Ireland and felt so lucky to do so," McNeill said. "When most of the world was still closed, we were able to film in 16 locations across Ireland. And the album too, we did it in several different studios. Of course, it was very different. We we all had to go individually, and all masked up with a lot of security We had to wait a while to check in until things were safe enough, but we think we were incredibly lucky to have been able to do so during the lock.
Celtic Woman's fresh fusion of traditional Irish music and contemporary song celebrates Ireland's history while reflecting the vibrant spirit of modern Ireland. Just as their music brings together both the old and the new, the band's lineup on this tour contains both the beginning and the future.
"At the moment we have a brand new member, Muirgen O'Mahony, and she's doing incredibly well," McNeill told The Reporter. "She has been there for less than a year. Muirgen is an amazing singer. She slotted into Celtic Woman as if she had been there from the start. We also have Chloë Agnew who came back for this tour. She was there at the very beginning of it all. It's nice to have him back for this tour. It's wonderful to join Chloë on stage because I grew up watching her and watching Celtic Woman specials and videos on YouTube and she's the one I looked at every time I thought, 'This is what what I want to do; that's what I want to be a part of. This is definitely a beautiful full loop moment.
The tickets for the Postcards from Ireland The Indianapolis show is available at CelticWoman.com, oldnationalcentre.com and through the Old National Center Box Office, 502 N. New Jersey St., or by calling (317) 231-0000.
Photos courtesy of Donal Moloney