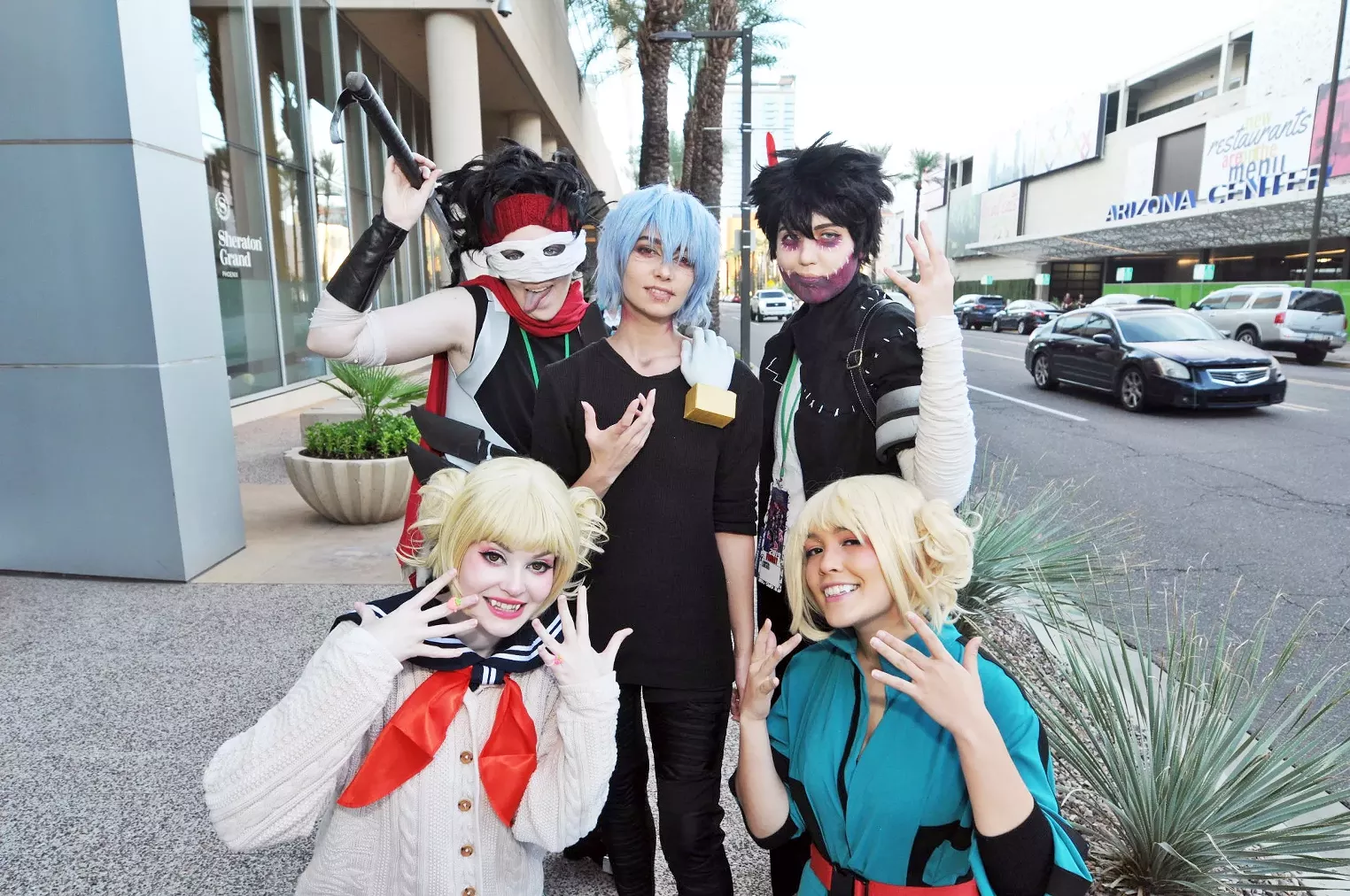 Eight cheesy things to do in September in the Phoenix metro area
[ad_1]
The geek abounds in September in the Phoenix subway. You can start the month by attending the biggest convention since the start of the pandemic and end it with local drag queens celebrating forbidden books.
In between, you'll have the opportunity to attend a Mad Hatter-worthy Carrollian snack, pick up game materials, participate in a mockup of The Amazing Race, and see one of the most popular B-movies. awesome of all time.
Without further ado, here are the more cheesy events taking place in the valley this month.
Saboten Con
Otaku, anime fans and weeaboos of the valley rejoice. Japanese pop culture event Saboten Con makes its long-awaited return this weekend after taking a pandemic hiatus last year. As might be expected, given the continued spread of COVID-19, security protocols will be in place during the event, which runs from Friday, September 3 through Monday, September 6 at the Sheraton Phoenix Downtown, 340 North Third Street. . Masks must be worn at all times and social distancing will be encouraged.
Four days of activities are planned for this year's con, including panels, concerts, a cosplay masquerade, maid cafes and more. Special guests include J-rock band Kazha and voice actors Olivia Hack, Jackie Lastra and Faye Mata. Hours vary. Admission is $ 20 to $ 35 per day and $ 60 for a full pass. Full details can be found here. Benjamin leatherman

Endgame Labor Day Extension Bash

If you'd like somewhere else to show off your costumes and join in the joystick action, Endgame, 1233 South Alma School Road in Mesa, will be hosting the three-night "Labor Day Expansion Bash" from Friday September 3 through Sunday. , September 5. It will have a geek touch with Endgame's resident selection of PCs and consoles available for gaming sessions, artist and vendor tables will be set up and cosplay will be encouraged throughout the weekend. Various electronic dance music DJs and hip-hop artists will perform each evening in the main hall and upstairs lounge. Activities begin at 9 p.m. on Friday and Saturday and at 4 p.m. on Sunday. General admission is $ 30 to $ 40 per day and bottle service packages are $ 750.
Click to enlarge
AEW All out Projections

If you are an All Elite Wrestling fan, Sunday September 5th will be a milestone in the short history of the upstart promotion challenging WWE's market dominance. AEW's biggest pay-per-view of the year, All out, will take place in Chicago and the legendary CM Punk will have his first game in seven years. And you don't necessarily have to pay your cable company per view of this event, as it will be showing at several participating Harkins and AMC theaters across the valley starting at 4 p.m. Admission is $ 20 per person.
Twisted tea
They'll all be a little mad at the Whining Pig, 5030 East Ray Road in Ahwatukee, during this quirky, Carrollian-inspired costume party on Friday, September 10th. Drink specials will be available, but none of the adult drinks offered will shrink you (we think). Loot for the best costume will be awarded and a Alice in Wonderland The quiz session will start at 6 p.m. Free entry.
Click to enlarge
Silver Key Sellers Market

Could you really use a set of tungsten dice or lightly used table titles to add to your growing gaming space? The Silver Key Lounge, 1837 West Guadalupe Road in Mesa, will be hosting its latest edition of its 9 a.m. to noon vendors' market on Saturday, September 11. Dozens of vendors and local collections will have tables at the event. Special beer and wine offers will be available and game sessions could be arranged. It's free and $ 5 for a table. The loading time is 8:00 a.m.
Living mask! Mask festival
Geeks know a thing or three about masks, so this annual festival that covers face covers and celebrates their role in Indigenous cultures feels very much in the lane of local nerds. The three-hour event from 2 p.m. to 5 p.m. on Sunday, September 19 at Mesa's Pioneer Park, 526 East Main Street, will feature full-scale puppetry, masked performances by local dance troupes and theater companies, and more. Participants are also encouraged to wear masks. Free entry.
FilmBazaar at the Nile
The downtown Phoenix FilmBar and the Nile Theater, 105 West Main Street in Mesa, will stage the first edition of their monthly collaborative project, FilmBazaar, on Sunday, September 26. It's a disc / movie swap (where people can buy and sell their favorite music and movies) from noon to 3 p.m., followed by a screening of a cult or fan favorite movie. And for the very first FilmBazaar, the organizers chose the years 1984 The poisonous avenger, one of the best bad movies ever made. There is a $ 5 cover charge. Full details are available here.
Ahwatukee Amazing Race 2.0
Residents of the valley who always wanted to appear in the hit reality show contest Fantastic race (but cannot see their audition video) should consider participating in a smaller-scale DIY version that will take place in Ahwatukee on Sunday, September 26. Ditto for anyone who is up for an outdoor adventure or for some exercise. The event will be similar to the show in its setup and execution: teams of two or more people will run around a certain area and take on various mental and physical challenges in order to progress. If your team can complete the tasks and reach the finish line first, you win. The race will run from 2 p.m. to 5 p.m. and there is a registration fee of $ 100 per team. Registration and details can be found here.
Virtual Forbidden Book Story Time with Drag Story Hour
Bookmans Entertainment Exchange's Mesa location, 1056 South Country Club Drive, will celebrate the 2021 edition of Banned Books Week, which celebrates forbidden literature, with this virtual storytime session on Sunday, September 26, featuring readings by performers of Drag Story Hour AZ. Miss Felicia Minor will read passages and pages from some of her favorite banned books from noon to 1 p.m. via their website. It's free to watch.
[ad_2]