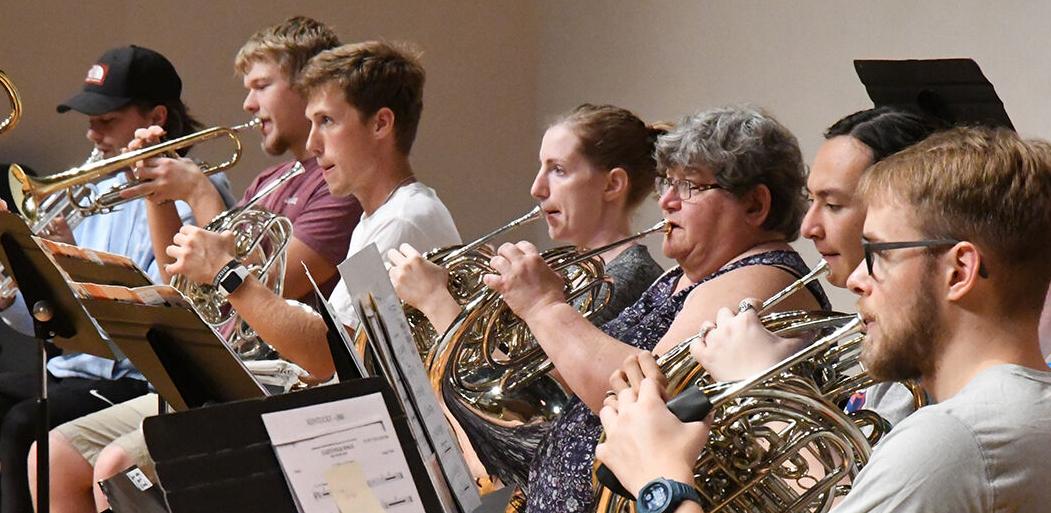 Dordt Campus-Community Band unites adults | Sioux Center News
[ad_1]
SIOUX CENTER — Take your word for Todd Zuidema: There isn't a flood of demand for solo tuba shows in the Sioux Center area.
This is just one of the reasons the Hull resident, 52, joined the Dordt University Campus-Community Band, which rehearses from 7 p.m. to 9 p.m. every Thursday at the BJ Haan Auditorium.
With a group of like-minded musicians from the Dordt campus and beyond, the ensemble works together ahead of the regular concerts – two per semester, with the next scheduled for 7 p.m. on October 15.
The conductor, associate professor of music in Dordt, Onsby Rose, described the community group as a joint venture between the community and the university, providing a unique way for students and adult musicians to interact.
Anyone interested in joining can do so by emailing Rose at [email protected] Membership is free.
There are approximately 50 student musicians and over 30 community musicians in the ranks.
"A lot of musicians in the community were part of the Dordt Wind Symphony at one point, or the band as it was called before," said Rose. "It creates a wonderful learning collaboration from those who have played Dordt as a student before and those who do now."
Membership in the group is not exclusive to past or present Dordt students, as some members have recently moved to the area and attended other universities.
It's even open to interested high school students, as students from Unity Christian High School in Orange City, Western Christian High School in Hull, and Sioux Center High School are included in the set.
"The raffle is the opportunity to continue making music beyond high school or college or to start making music at the college level for those who plan to start college soon," Rose said. .
This was the case for Zuidema, a former student of Dordt now director of relations with churches in Dordt, who joined in 2007.
"It was a double goal for me. One was my continued love for music. I was looking forward to the opportunity to play tuba again, "he said. "I was looking forward to joining an ensemble that would have a principal and would be very similar to my experience when I was playing in high school and college."
One of the attractions of the community group is that it's not really a time commitment, requiring only two hours a week.
"A carpenter will go into his workshop for an hour or two to enjoy the crafts. Fans of all kinds will devote their time to it, "said Zuidema. "Likewise, instrumentalists enjoy getting together with like-minded people and being able to make music with each other. It's an outing that allows people to exercise some of their creative gifts. It's relaxing even though it's work.
And for him, it's a way to stay in touch with his lifelong passion for music that passed from his own childhood to his children.
Zuidema encouraged anyone interested in continuing their musical pursuits into adulthood to try the Dordt Campus-Community Band.
"Sometimes after college you just don't have the opportunity to play like you did before," Zuidema said. "It gives you the opportunity to continue to exercise this gift and share it with others. It's also a nice break.
Allegra Fisher, a 27-year-old Orange City resident who works as the orchestra and choir director at Sioux Center Christian School, is a new resident of the area and joined the group this fall. She has been to three rehearsals so far.
"I love my instrument, so I thought I would like to play in different bands where I could continue to play my bassoon," she said. "I also knew Dr. Rose from a previous meeting several years ago and knew I would love to play in one of his ensembles."
Fisher has been playing instruments for 17 years, starting with the piano.
She said the mix of people participating in the campus-community group makes it a unique fun time compared to other groups. It's enough of a different environment, she doesn't feel exhausted by the musical demands of her job and the demands of rehearsal time.
"I especially look forward to the musical experiences that I will be able to live with new people and to build relationships with them. It's a different dynamic than where you meet people in a grocery store or even at church, "Fisher said. "I can't wait to be there and get to know everyone through this group."
[ad_2]