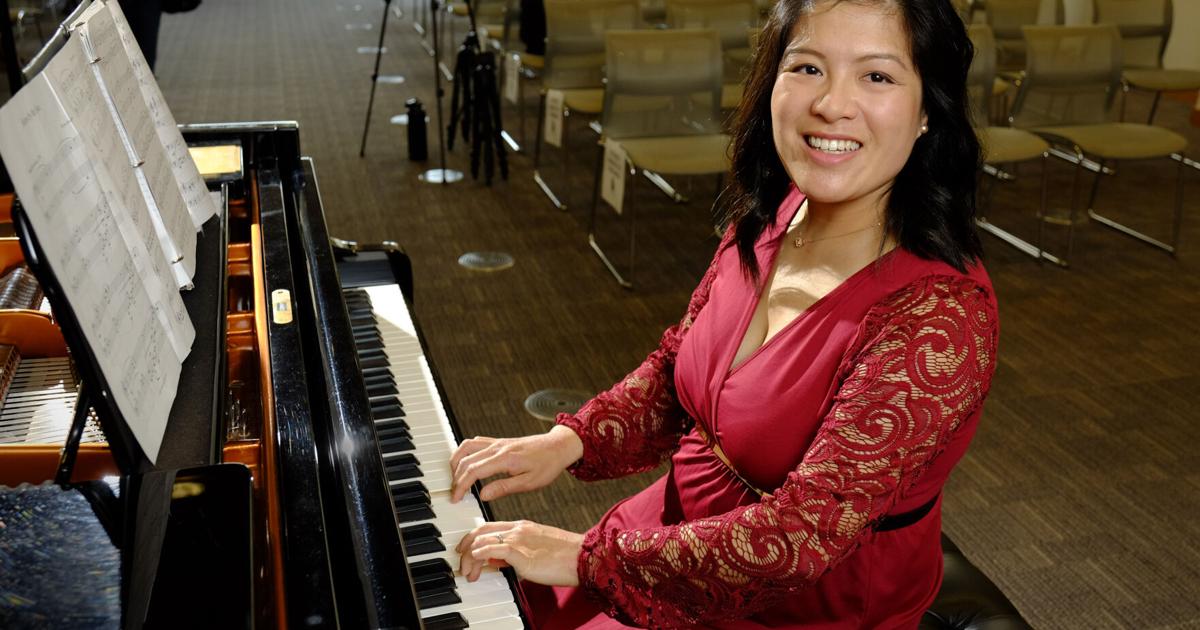 DJ Q&A: Candice Choi | Culture & Leisure
CREATING HARMONY ONE NOTE AT A TIME: CURRENT MUSICIANS DIRECTOR CANDICE CHOI CREATES A COMMUNITY FOR STUDENTS, YOUNG AND OLD.
DJ: You are a music teacher and director of a school for musicians. How did you come to your profession?
CC: I was born and raised in Daly City. Both sides of my family are rooted in the San Francisco area. I have lived and worked in San Mateo County since returning to the area 9 years ago. I spent time in college at the University of the Pacific Conservatory of Music in Stockton, California, and graduate school at Westminster Choir College of Rider University in Princeton, New Jersey before returning to Daly City to begin the music school of my dreams.
DJ: Why did you create Musicians in the Making?
CC: Growing up as a music student, I always thought learning the piano was a lonely endeavor. I didn't know any other serious pianists until I went to college. From college and graduate school, in addition to my postgraduate scholarship, I learned the importance of community in creating strong musicians. When I created Musicians in the Making in 2013, my vision was to create a school of music where our students see themselves as a community that can enhance each other's musical abilities, the same way athletes on a team support each other. I also wanted to create a program that connects students in the Bay Area with other musicians around the world.
DJ: How has your business evolved over the years?
CC: I started Musicians in the Making in my home studio in Daly City. We now have a teaching faculty of seven and an office administrator with three school campuses and online courses. All of our students take private or small group lessons as well as monthly group performance classes where our students can collaborate with each other. We also offer Early Years Music, where young students are introduced to the musical elements in their minds and bodies. Our students perform in unique recitals three times a year. Some of our past recitals include holiday music concerts at senior residences, concerts at our own Musicians in the Making carnival in the park, and concerts for an international music competition in Indonesia. Last year, our school was also treated to a master class given by America's Got Talent finalists, Sons of Serendip.
DJ: What was your musical training?
CC: I first discovered music at the age of five when I started taking piano lessons. My first teacher was a piano teacher in San Francisco who ran a small home piano studio. I had many mentors and teachers from coast to coast who influenced my musical career. Professors Ingrid Clarfield, Phyllis Lehrer and Paul Sheftel of Westminster Choir College have developed me as an advanced performer and pedagogue. Marvin Blickenstaff and Amy Glennon of the New School for Music Study have had a strong influence on my teaching style. Professor Benedict Lim from City College of San Francisco inspired me to expand my studio. Professors Keith Hatschek, Frank Wiens and Dr. Rex Cooper of the University of the Pacific Conservatory of Music developed my solid foundation for musical and commercial success.
DJ: What is the most popular instrument?
CC: Our most popular instrument to study is the piano. Indeed, the piano is a musical instrument that helps develop a broad foundation for future musical studies. If students decide they want to learn other instruments as they get older, knowing the piano gives them an advantage. Our students use the piano, keyboard, violin, guitar and ukulele.
DJ: How old is your youngest student? Your eldest?
CC: Our youngest student is 2 years old and our oldest student is 50 years old.
DJ: What would you say to a parent considering music lessons for a child or an adult considering taking music lessons?
CC: Learning an instrument is simply the vessel through which we teach lifelong lessons. We use music to help children express themselves emotionally and develop confidence and self-discipline in a fun, collaborative environment. Children at our school make lifelong friends and learn to use music purposefully through community service opportunities and other community events. For adults considering learning music for the first time, learning music is like learning a new language. New musicians learn to express themselves in unique and beautiful ways while sharpening their cognitive skills. Playing music is a way to release the stress of our busy lives while creating something beautiful. For adults who already have musical experience, our teachers are excellent at rekindling the love of music.
Susan Cohn is a member of the San Francisco Bay Area Theater Critics Circle and the American Theater Critics Association. She can be reached at [email protected]