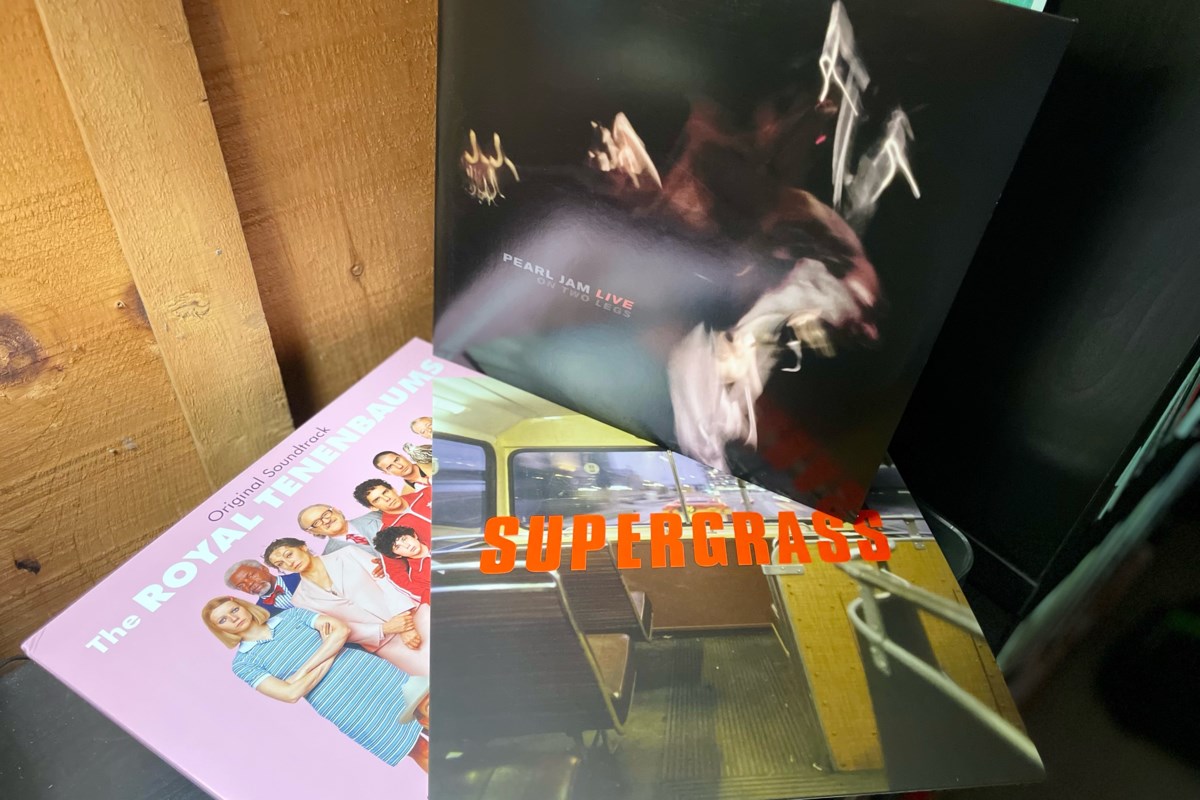 COLUMN: Record Store Day takes music lovers back in time
The Village Media writer reflects on record collecting and a nearly 25-year journey to buy an album
November 24, 1998 was a Tuesday. Like many Tuesdays in my teens and throughout my 20s, I stand in line at a checkout with music in my hand.
That day: a CD copy of "Live on Two Legs" by Pearl Jam.
Arriving at the HMV counter in the Upper Canada Mall, I notice the same album I'm about to buy, but not on CD. There, perched above the cabinets behind the cash registers, is a vinyl copy.
"Is it for sale?" I ask. It has already been sold, I am told.
"But we can make a special order for you." My eyes light up. I'm buying the copy of the CD (to listen to it in my Discman as much as possible in the next few weeks) and gave my name and phone number to the clerk. I get a phone call as soon as he's inside.
This HMV moved to two different locations in its remaining 15 years at Upper Canada Mall. The special order never arrived.
A lifetime of record collecting passed between that date and last Saturday. But finally, after almost 25 years, I was able to shoot my own copy of "Live on Two Legs" and hear the first words from Eddie Vedder's mouth.
"The wait drove me crazy." Editing, if not a touch inaccurate.
Saturday was Record Store Day at independent stores across Canada and around the world. Usually held in April (with an offshoot on Black Friday), this year Record Store Day has been split in half, a pandemic-driven pivot similar to those found in so many other industries. As one of the Record Store Day exclusives, "Live on Two Legs" has been reissued, on clear vinyl, and I'd be damned if I were to be kicked out again, even if it meant waiting two hours in line before to spend 11 minutes in total in the store.
Since 2008, Record Store Day has been a way to show the importance of independent record stores and the culture they help cultivate in their communities. Today it's celebrated on every continent that has a record store (gather around, Antarctica) and on Saturday stores across our region saw queues of enthusiasts waiting to grab this (or more) record special limited edition that they just had to add to their collection.
I'm not so blind to realize that there are issues with Record Store Day that go beyond supply chain issues. Like most good things, it's been somewhat sullied by corporate greed (only Visa will know how much I spent in total between April Day and Saturday) and unfortunate gimmicks (countless disks of pictures, three-inch discs or, worse, cassettes). But it's still a great day for a community to form and for more people to enjoy the warmth that physical media can bring.
And we're lucky in those areas not only to have the stores that we have, but also to have survived the pandemic. Every time I walk into one of my locations (the plural is on purpose because I feel like a regular at more than one store), I think of Rob Gordon from "High Fidelity", explaining how he stayed afloat as the owner of Championship Vinyl.
"I get by thanks to the people who make a special effort to shop here – mostly young men – who spend all their time looking for deleted Smith singles and original, un-reissued – underlined – Frank Zappa albums . The fetish properties are not unlike porn. I'd feel guilty taking their money, if I wasn't…well…kinda one of them.
By the way, it's not just about "young men". While those of us on Saturday morning were overwhelmingly middle-aged white men, the act of buying and enjoying records is more inclusive than ever and those who oppose it (who, admittedly, are probably white men of a certain age or writing ridiculous books like "Record Collecting For Girls") need to be corrected.
Having a record collection, I admit, makes absolutely no sense. They're inconvenient (you can only listen to them at one place) and expensive (in the US, part of the reason vinyl is now a billion-plus-dollar annual industry is the price $30 sticker way). They are bulky and clumsy; I'm moving next month and the one thing I don't know how I'm getting from point A to point B is the thousand files currently neatly organized in my living room.
But the only meaning any collection should give is that it fills something in you that you may not have realized you needed. Whether it's comic books or Fabergé eggs, having a collection of anything is the ultimate "do you" moment. You hardly need to justify it to yourself, let alone anyone. All he has to do is feel good.
And after all this time, few things seem fairer than cutting the wrap around the jacket, removing the record from the sleeve, putting it on the platter, and dropping the needle.