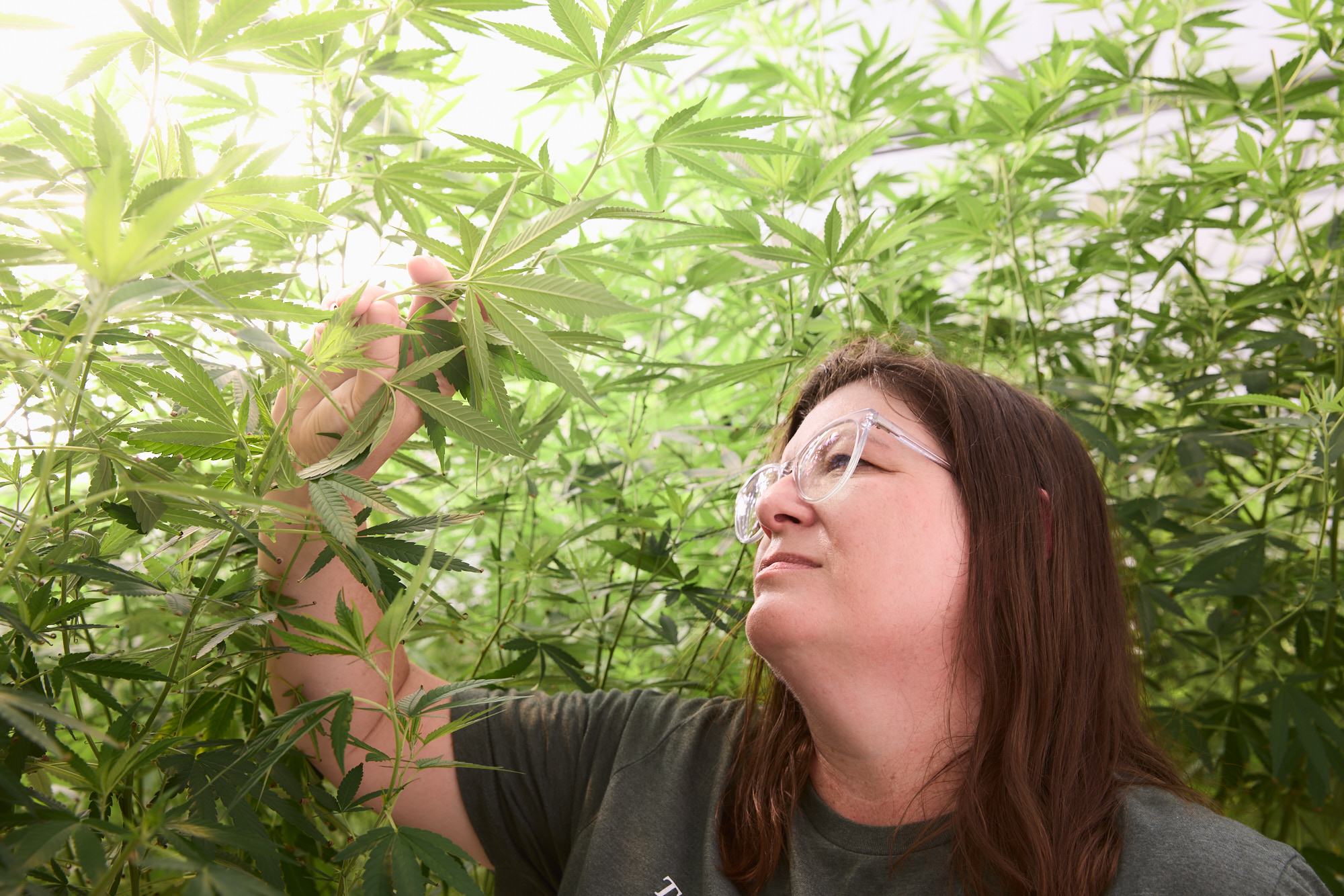 11 Questions with Jammie Treadwell of Treadwell Farms
You can't deny that people are awesome. Who doesn't love sitting down with good friends to ask interesting, insightful, and fun questions? That's what 11 Questions is about. I'll feature friends I look up to as well as members of the Orlando community I've always wanted to know.
THIS INTERVIEW WAS ORIGINALLY POSTED BY CARLSON ON HIS OWN BLOG.
I was lucky enough to meet Jammie through Brendan O'Connor at Bungalower when they did a public pop-up event here in Central Florida with Treadwell Farms.
Jammie and his family have had a big influence on the CBD space in Orlando and beyond. His passion for it and its medical benefits really shines through in his knowledge and experience. Of course, we all know the chill it brings. But it's crazy to think about the potential of this single plant – clothing, rope, shoes, paper, bioplastics, insulation, fuel and concrete, to name a few.
Then we're going to grow this stuff in space. Many thanks to Jammie for showing me around their operation.
If you could have an extra hour of free time every day, how would you use it?
I was reading a good book in a hammock by a body of water or listening to live music with a friend. Any live music will do because I love all genres, but it should be instrumental and the lyrics should be uplifting. When I attend music festivals, I lean towards rock, Americana or country, but anything with strong musicality and punchy lyrics will do.
Your favorite book, album or musician who marked your life?
I have many fond memories of listening to Creedence Clearwater Revival with my Uncle Mike. When CCR arrives, I can't help but smile and sing. I also really like Chris Stapleton, Jason Isbell and The Highwomen – when I can read lyrics that speak to me and then hear the song do the same, I love that. Words really matter to me, so I would say music/lyrics and reading help me make sense of life and help me experience things outside of my daily life. Both also allow me to focus on a different area and often distract me from my worries.
If you could mate two different species of animals, what would they be?
Funny question! I would say a cheetah and a shark. A cheetah because they are fast (my family drag races and I like fast cars). A shark because it must keep moving or die. I always want to move forward towards new challenges and not stand still.
Who in your life has inspired you?
I am proud to come from a long line of Florida farmers on both sides of my family. We never back down from a challenge and like to get dirty. We see the value of growing what we eat and enjoy in our own community. In this spirit, my parents inspire me. They started their business when they were barely out of their teens, raised their family and taught us to work hard and play hard. They also taught me how important it is to make your faith a driving force in your life. My parents could have easily retired, but they are still by my side building Treadwell Farms so we can grow hemp for our community. We always say we'd rather give in than rust. The feeling that you can always set yourself and achieve a new goal at any stage of your life is something I learned from my family in general, but especially from my parents.
What are you proud of?
I'm proud to extend my family's farming legacy to the next generation with a new crop for Florida. I am also proud of our Treadwell Farms CBD Products – we take great care in how we select genetics, grow each plant using organic practices, hand-harvest, slowly dry and harden, and ultimately formulate each of our products.
There are many CBD products out there, but few are grown, formulated, and produced in Florida with as much care. Additionally, I'm proud to be affiliated with the Florida Hemp Program – this requires the clarity of labeling and third-party testing to confirm potency and ensure there are no contaminants, and we are monitored at every step of the process. These are the right things to do to ensure products are safe and the Fresh From Florida, Made with Florida Hemp seal means something. I am a proud and proud Floridian and to be part of the Hemp Establishment to serve my state is a dream.
What rejuvenates you?
A few things rejuvenate me. First of all, it motivates me in my professional life when I can work with a client to have a better life with our CBD products. Starting a business in a new industry for Florida as COVID was starting was tough! Every day when one of my customers calls me, emails me, or tells me face-to-face how our products are helping them live a better life, it motivates me. Second, my family has been drag racing for a long time. Being on the track, focused on the team and winning the race makes me forget everything that's going on. I also usually see friends from all over the country. It's always a fun time. Finally, my brain is still working, and I don't know what I would do if I couldn't direct that brain to lose myself in a good book, study the Bible, listen to music, or learn something new.
Is there anything you haven't done yet that you feel compelled to do?
One of the things I've been working on for the past few years is being present and appreciating what I have today. That's not to say I don't have goals, but I don't want the next big thing to take away the things I can enjoy now. My biggest goals lately are to see our Treadwell Farms products be in more outlets in our community serving more Floridians and to help grow a hemp industry that works for Florida farmers. I would also be very happy to participate in the development of sustainable hemp building materials and biodegradable plastics. We are actively seeking partners to work with us on this topic.
How do you balance your personal and professional life?
I'm very lucky to have a large extended family in Central Florida as well as a large group of friends who help balance me out. I'm a bit of a workaholic because I'm passionate about what I do. Finding ways to connect with my support network and do the things I love like drag racing, live music, reading, or art keeps me grounded and energized to do the work I do. feel called to do at Treadwell Farms.
The best place to eat in Orlando?
I really like hanging out at the beer garden at Ravenous Pork Brew (instagram). Treadwell Farms was fortunate enough to make a beer collab (Treadwell Red) and I really enjoyed collaborating with Jenna and Larry Foor and their team to make a beer we could both be proud of. When I'm there, I always get pulled pork and braised greens and, if possible, attend a beer release party so I can check out their latest creation.
Since I live in Mount Dora just outside of Orlando, I also have to hook up my favorite Mount Dora restaurant. My absolute favorite is Copacabana for Cuban. It's authentic, and I opt for my favorite comfort food which is Arroz Con Pollo with sweet plantains. Complimented by the Mojito house and I'm a happy woman.
How do you hope to be remembered?
I hope I will be remembered as someone who cared and did what he could to make the lives of others a little bit better. I hope I will be remembered as someone who took a risk and plunged into the unknown of the hemp/cannabis industry to create something special for Florida. I also hope that I can contribute to sustainable building practices with hemp concrete, hemp plastics or even hemp for electric car batteries in a small way. I know my path is growing awesome hemp and making hemp/CBD wellness products, but I would be thrilled if our hemp, facilities, or other knowledge I have could help with these other uses of the hemp that are so important to our future.
If you had to choose another career, what would it be?
I would own a book and record store with a cafe with my best friends and/or my sisters. I'd like to think that I'm a great book and music matchmaker and those around me are great baristas and home bakers. We have always joked that our retirement plan will be to operate from our Daddy's Girls-style hut, so we'll see what happens. We would definitely have fun!
CLICK HERE TO LISTEN TO A SPECIAL PODCAST INTERVIEW BETWEEN BRENDAN O'CONNOR AND JAMMIE TREADWELL ON A BONUS EPISODE OF "BUNGALOWER AND THE BUS".